First, how cute are these guys?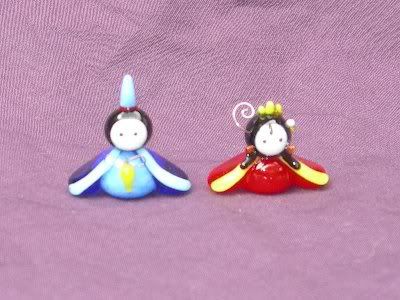 They're a pair of glass Hinamatsuri dolls I picked up at ABC Craft in Osaka. They're 2cm tall. They weren't the smallest though. That honour went these next ones, at less than 1cm: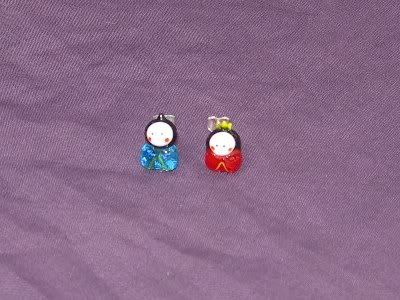 You can't really see here, but I've glued them onto earring backs. (My immediate response to anything colourful and smaller than a golf ball is "Wow, that'd make an awesome earring!".)
And here are some more random earrings I made from stuff I found at ABC Craft:
Aren't they pretty? I'm not usually into floral motifs, but the colours are great. Ohhhhh, I love that shop so much, it's a treasure trove. I can't wait to go back.
OK, so this week I didn't get as much sewing done as I meant to, since Dad was doing some sewing of his own. I prefer to monopolise the table completely, so I left him to it :D
Instead of sewing, I got stuck into the jumper. The back's nearly done. Here's where it's at now: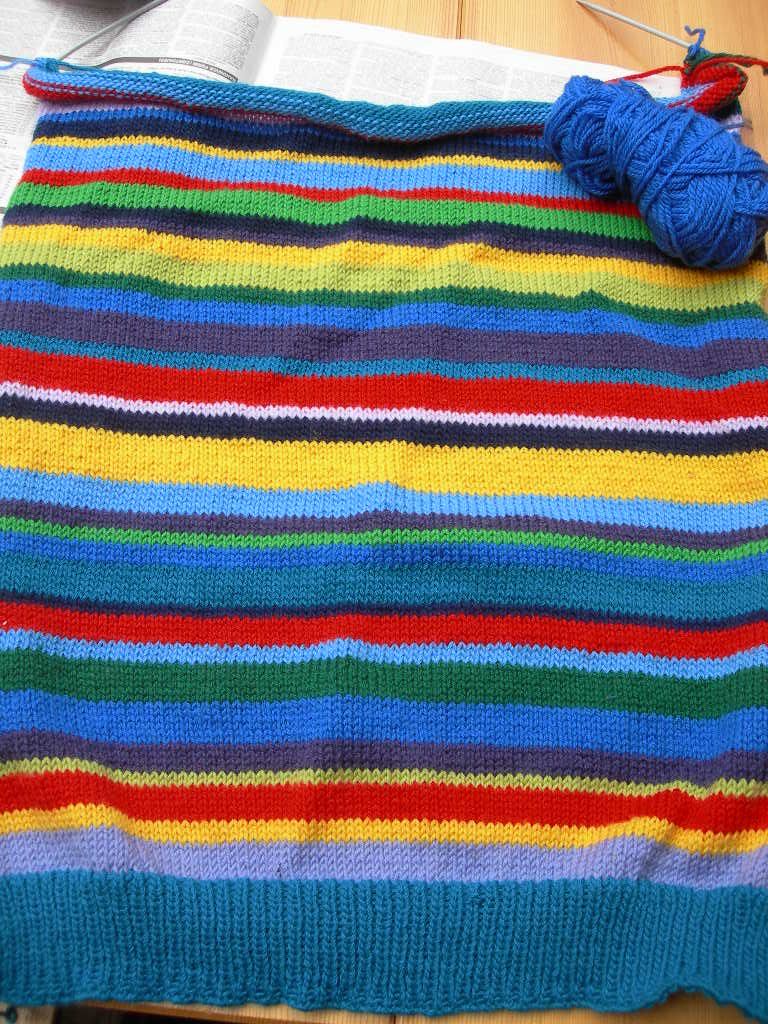 It's great 'cos it's so easy I can just go into a knitting trance, but it doesn't get boring with all those colours!
Once Dad was done with the sewing machine, I got stuck into a jumper revamp I've been thinking about for a while. You see, I found this nice quality, grey woollen jumper while sorting out one of the piles of stuff that inhabit our house. We're not sure wear it came from, it might have been Grandpa's. So, since piles of ashes don't have much call for jumpers, I 'acquired' it. I'm not really into large expanses of grey, though, so I needed to jazz it up a bit. Luckily, I'd been itching to apply some
neat applique patterns
I found on the Craft Magazine blog a while back.
I traced the shapes onto some iron-on interfacing (iron-on interfacing is my new favourite thing!), then ironed the interfacing onto the wrong side of the material I wanted to use. Then, I did a zig-zag stitch over the line on the interfacing (with a medium stitch length and a low stitch width, so it was like satin stitch). I trimmed the fabric back around the outside of the zig-zagged line, and then it was just like sewing Girl Guide badges onto my jumper! I went back and added the thread detail in with some random yarn I had around.
Jumper + Applique = Match Made in Heaven: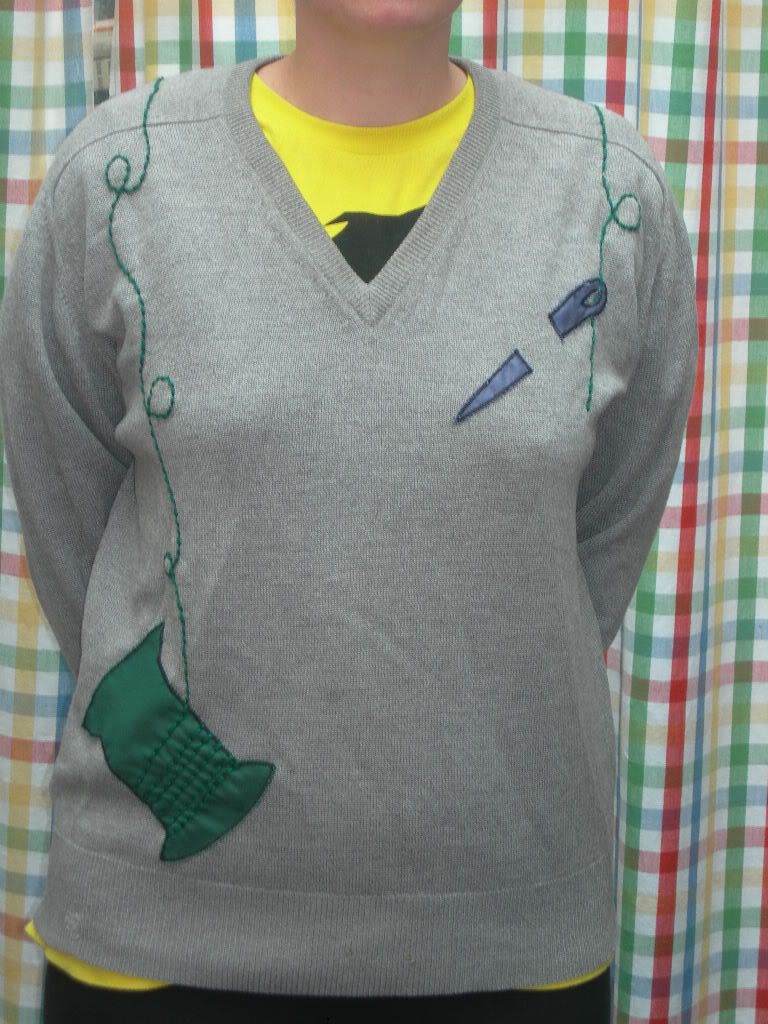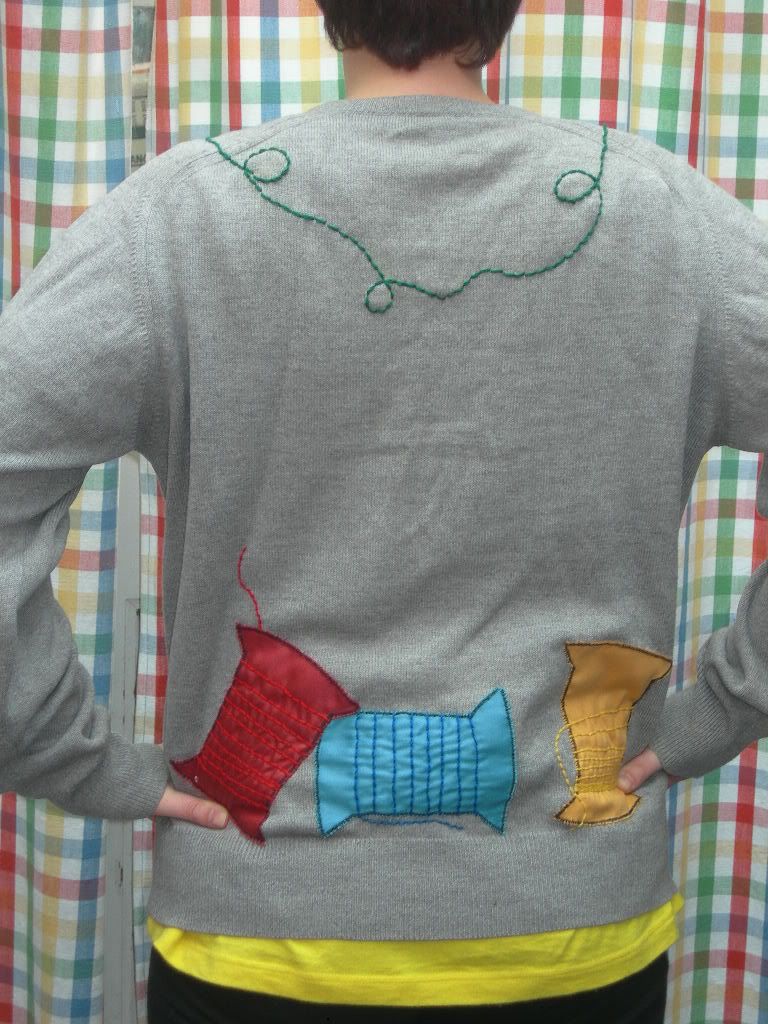 (Hmmm... I think it might be time for a hair cut.)