So, my job (when I'm working) doesn't like visible tattoos. I'm off work for a little while though, and to keep myself amused I got tattoos on the inside of my wrists. At first glance, this may seem something of a miscalculation. Actually, though, I put some serious thought into the interesting ways I've seen other people redefine/stretch/smash through the professional dress standards, and I decided I could certainly get away with some natty wrist cuffs in my work wardrobe. Thus keeping my secret unprofessionalism secret, AND marginally brightening my working day with some nifty accessories.
I made a couple of knitted cuffs from
this simplistic yet deceptively cool pattern
. I didn't have any variegated yarn, so I did stripes with two colours of yarn. The cuff shown below has stripes four rows wide. I made a second one with a random pattern of stripes of one, two and three rows width. (I have a hard time making two things that match - it gets a bit boring.)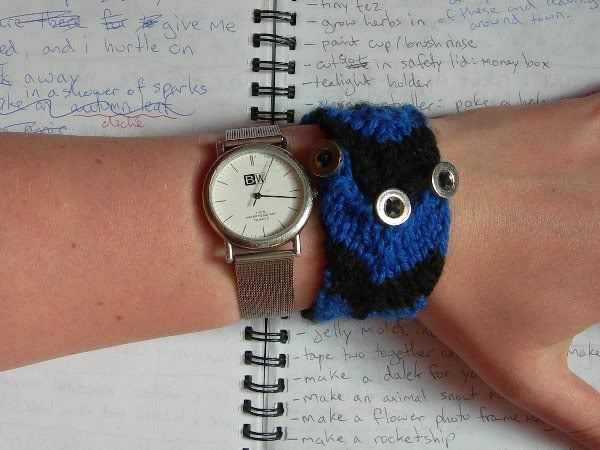 I've sewn some fabric cuffs, too. They're awesome stash-busters. Here's the quick and dirty way to make one:
1) Measure around your wrist, and figure out how deep you want the cuff to be. Be sure to allow for whatever amount of overlap you need to close the cuff (this will depend on how you decide to close it). Make a paper template of this rectangle, and used the template to cut out a piece of iron-on interfacing.
2) Take the fabric you're using, fold it in half with the right sides facing each other, and iron the interfacing on one of the wrong sides.
3) Straight stitch around the interfacing, so that the double thickness is sewn together. Don't forget to leave one of the short ends open for turning!
4) Cut out the excess fabric away from the wrist cuff - leave a seam allowance! The seam allowance should be fairly small for the sewn edges, but biggish for the open end, as you will fold it in and stitch it closed.
5) Turn the cuff right-side-out, and press. Fold the seam allowance at the open end into the inside of the cuff, and press.
6) Top stitch all the way around the cuff, including the open end (so that it is no longer open).
7) Add closure of your choice.
I fiddled around with various sorts of closure on mine. I tried out a kind of corset effect on the first one, by threading the ends together with black hat elastic.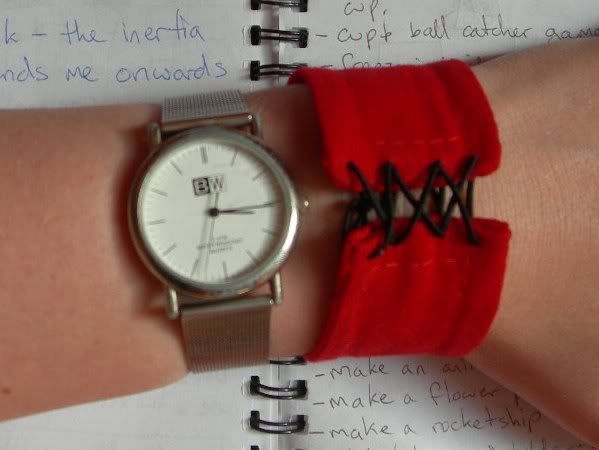 I like how it looks, but the small amount of elastic doesn't stretch very much. It's hard to get on and off over my hand. So, for the second one (the pair to the above one) I went with hooks and eyes.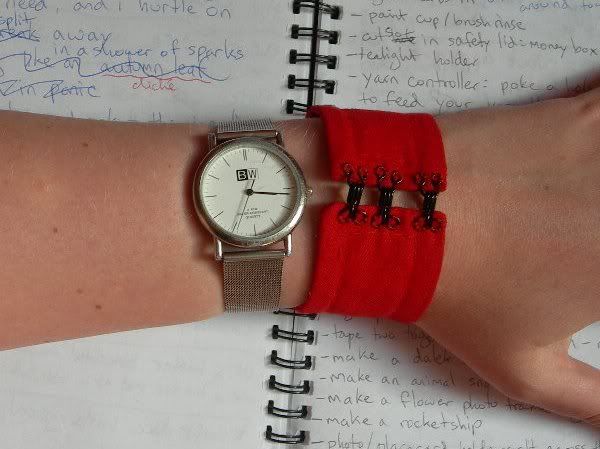 It is (predictably) also somewhat difficult to put on.
So, in the end I finally broke down and took the not-stylish-but-easy way out - Velcro! I made black cuffs so they will go with everything that the others won't go with. For interest, I added a dash of leftover old lace to one. (Its pair is just plain black - I told you, I can't make two things the same!)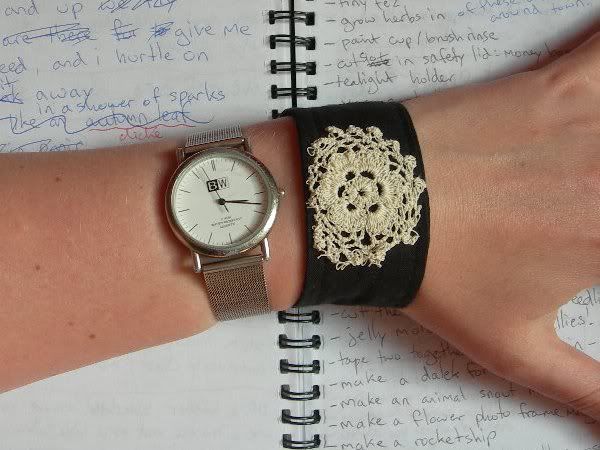 Heh, I'm looking forward to busting these out at my unsuspecting workplace. Little do they know...