(lol. Knitting geek joke. 'Carry-on', get it? Oh, never mind...)
Noro
. It's Japanese for 'super expensive designer yarn in colours you'll never wear'. The masses swoon and drool over it on Ravelry, so I was primed to be excited when I first encountered it in my LYS in Osaka. It is very pretty stuff, sitting in its alluringly rainbow hanks on the shelves. "Buy me," it purrs, "buy me. You know you want to." (Yes, it purrs in English.) But I gotta say, once I picked it up and inspected it more closely, and considered what I would use it for, it became considerably less sexy.
Basically, I have two issues with Noro yarns:
Noro Problem #1 is the colour scheme. They look damn pretty on the shelf, but up close a lot of the Noro shades do not float my boat. Although I am a fan of fitting as many different colours as possible into any given space, the Noro variegations nearly always contain several colours I like, and one or two that I hate, or wouldn't go with my wardrobe. And given how much the yarn costs, it's gotta be something I could wear with a few different items.
Noro Problem #2 is texture. A lot of it really doesn't feel nice. It's no good having a top that's all purdy-like but feels like a dish scrubber when you put it on. It's gotta feel good on your skin, that's a no-brainer.
So, doesn't look nice, doesn't feel nice. Just has a snazzy, designer name, and I know everyone else wants some. Hmmm...
I spent a long time staring at the Noro, and in the end, I did find some I liked. It's a yarn called Opera Tamu. It's not in the Ravelry database, so I guess it's not one of the more popular Noro yarns. It's an interesting blend: 55% wool, 20% silk, 19% lambswool and 6% nylon - not the softest yarn around, but wearable. It's pretty chunky - I worked it at about 12st to 10cm. As for the palette, it has enough purple, blue and green in it to make up for the odd dash of shit brown and pink (bleh).
So, below is the top that my Noro has become. It is roughly
this top
.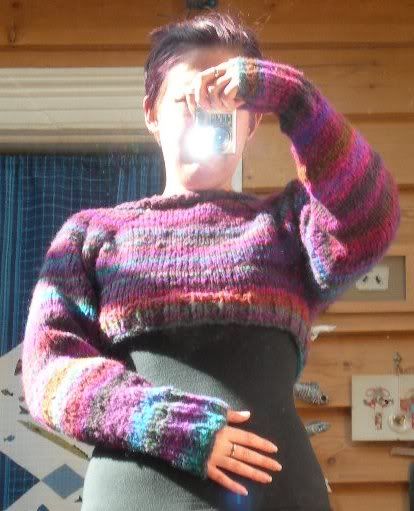 I didn't think I would bother going back for more Noro, but I recently found a great pattern on Ravelry for a spiral blanket called Ten Stitch Twist. It's designed with Noro yarn in mind, and displays the colours beautifully. I think it might tempt me back since blanket doesn't need to go with my wardrobe!