My month of making got off to a good start today, despite a two hour power cut this afternoon. I've been waiting for an opportunity to mak this dress for a while. It's from the pattern on pages 90-97 of issue 8 of
Craft magazine
. (Such a great magazine! I was really sad to hear that they had to merge with their sister mag, Make. Though, I am sure it will still be a fine, inspirational publication, and I am also sure I will still subscribe to it.)
The fabric I used is some some stuff I picked up in the Spotlight post-Christmas sale. Ah, Spotlight... I have a love/hate relationship with them. They're dreadful because they've forced nearly all the other craft and fabric and yarn shops out of town. But, they do have a fine range of stuff, and I'm a sucker for a great, big range of stuff.
Here's an example of some stuff I couldn't resist: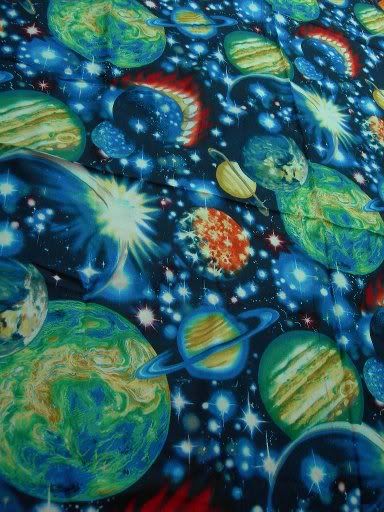 Truly epic, is it not? And certainly in need of a simple, un-fussy pattern. So, the a-line dress in Craft was perfect!
I've dubbed it the Holst Dress, after
Holst's The Planets
, which I'm quite fond of (especially Jupiter). The dress is a smidge shorter than I'd intended, but overall I'm really pleased with it. I'm not really a wearer of dresses, ordinarily, but I think I'll get a lot of wear out of this one. Especially since I can wear it three different ways:
Party Dress (my personal favourite)
Suspender Dress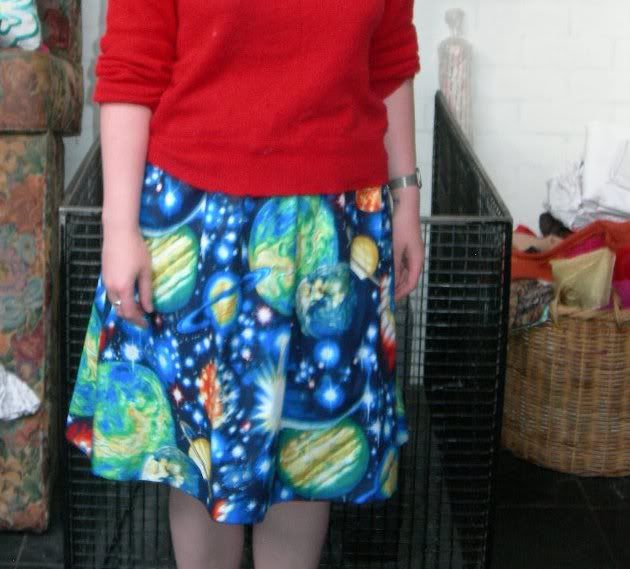 Skirt (with the shoulder straps tucked inside.)
(Apologies for the photo quality - the photographer was keen to get back to GTA :P )